Nin-Nin® is a registered trademark at the INPI (National Institute of Intellectual Property). The model of our blanket is also registered with the INPI (National Institute of Intellectual Property) and WIPO (World Intellectual Property Organization)
Nin-Nin®, a registered trademark
National registration number : 12 3 929 708
Class No 3 : Bleaching preparations and other laundry substances; preparations for cleaning, polishing, degreasing and abrading; soaps; perfumes, essential oils, cosmetics, hair lotions; toothpastes; depilatories; make-up removal products; lipstick ; beauty masks; shaving products; products for preserving leather (shoe polish); leather creams
Class No 9 : Scientific, nautical, surveying, photographic, cinematographic, optical, weighing, measuring, signaling, control (inspection), rescue (rescue) and teaching apparatus and instruments; apparatus and instruments for conducting, distributing, transforming, accumulating, regulating or controlling electric current; apparatus for recording, transmission or reproduction of sound or images; magnetic recording media, acoustic or optical discs; compact discs, DVDs and other digital recording media; mechanisms for prepayment apparatus; cash registers; calculating machines; equipment for data processing and computers; fire extinguishers ; game software; software (recorded programs); computer peripherals; electric batteries; detectors; Electric wires ; electric relays; diving suits, suits, gloves or masks; clothing for protection against accidents, irradiation and fire; personal protection devices against accidents; spectacles (optics); eyewear articles; spectacle cases; diagnostic apparatus, not for medical purposes; memory cards or microprocessor cards; rescue tarps
Class No 12 : Vehicles; apparatus for locomotion by land, air or water; engines for land vehicles; suspension shock absorbers for vehicles; bodywork; non-slip chains; vehicle chassis or bumpers; blinds (sun visors) for automobiles; safety belts for vehicle seats; electric vehicles; caravans; tractors; mopeds; cycles; frames, crutches, brakes, handlebars, rims, pedals, tires, wheels or bicycle saddles; strollers; handling trolleys
Class No 14 : Jewelry; jewelry, precious stones; horological and chronometric instruments; precious metals and their alloys; works of art of precious metal; jewelry boxes; boxes of precious metal; watch cases, bracelets, chains, springs or glasses; fancy keyrings; statues or figurines (statuettes) of precious metal; cases or cases for watchmaking; medals
Class No 16: Printed matter; articles for bookbinding; photographs; stationery articles; adhesives (sticky materials) for stationery or household purposes; material for artists; paint brushes ; typewriters and office requisites (except furniture); instructional and teaching material (except apparatus); block letters; clichés; paper; cardboard; boxes of cardboard or paper; posters; albums; cards; books ; newspapers; prospectus; brochures; calendars; writing instruments; engraved or lithographed works of art; paintings (paintings) framed or not; watercolors; patterns for sewing; drawings; drawing instruments; pocket handkerchiefs of paper; towels of paper; table linen of paper; toilet paper ; bags and sachets (envelopes, pouches) of paper or plastic for packaging; garbage bags of paper or plastic
Class No 18 : Leather and imitations of leather; animal skins; trunks and suitcases; umbrellas, parasols and walking sticks; whips and saddlery; wallets; wallet ; handbags, backpacks, wheeled bags; bags for climbers, campers, travel, beach, schoolchildren; cases for containing toiletries; collars or clothing for animals; nets or shopping bags
Class No 20 : Furniture, mirrors, picture frames; works of art of wood, wax, plaster, cork, reed, rush, wicker, horn, bone, ivory, whalebone, shell, amber, mother-of-pearl, meerschaum, substitutes for all these materials or of plastics; clothes hangers; dressers; cushions ; shelves; packaging containers of plastic; armchairs; seats; bedding (except bed linen); mattress ; china cabinets; wooden or plastic boxes
Class No 21 : Household or kitchen utensils and containers; combs and sponges; brushes (except paint brushes); brush-making materials; manually operated cleaning instruments; iron straw ; unworked or semi-worked glass (except glass used in building); porcelains; earthenware; bottles; works of art of porcelain, terracotta or glass; statues or figurines (statuettes) of porcelain, terracotta or glass; toiletry utensils or kits; trash cans; glasses (containers); washing up
Class No 24 : Tissus ; couvertures de lit ; tissus à usage textile ; tissus élastiques ; velours ; linge de lit ; linge de maison ; linge de table non en papier ; linge de bain (à l'exception de l'habillement)
Class No 25 : Clothing, footwear, headgear ; shirts; clothing of leather or imitation leather; belts (clothing); furs (clothing); gloves (clothing); scarves; ties; hosiery; socks; slippers; beach, ski or sports shoes; underwear
Class No 28 : Games toys ; decorations for Christmas trees except lighting articles and confectionery; Christmas trees of synthetic materials; apparatus for physical exercise or gymnastics; fishing gear; balls or balloons for play; billiard tables, cues or balls; card or table games; ice skates or roller skates; scooters; windsurf boards or for surfing; snowshoes; snowshoes ; skis; protective padding (parts of sports clothing)
Class No 35 : Publicity ; business management; business administration; office work; dissemination of advertising material (leaflets, prospectuses, printed matter, samples); newspaper subscription services (for others); subscription to telecommunications services for others; presentation of goods on all means of communication for retail sale; business organization and management consultancy; accounting; reproduction of documents; employment offices; computer file management; organization of exhibitions for commercial or advertising purposes; online advertising on a computer network; rental of advertising time on all means of communication; publication of publicity texts; rental of advertising space; dissemination of advertisements; public relations
Class No 41 : Education; training; entertainment; sporting and cultural activities; information relating to entertainment or education; professional retraining; provision of leisure facilities; publication of books; book loans; production of films on video tapes; rental of cinematographic films; rental of sound recordings; rental of video recorders or radio and television sets; rental of stage sets; editing of video tapes; photography services; organization of competitions (education or entertainment); arranging and conducting of colloquiums, conferences or congresses; organization of exhibitions for cultural or educational purposes; reservation of seats for shows; game services provided online from a computer network; gambling service; electronic publication of books and periodicals on-line; micro-publishing
Product or service classes : 3, 9, 12, 14, 16, 18, 20, 21, 24, 25, 28, 35, 41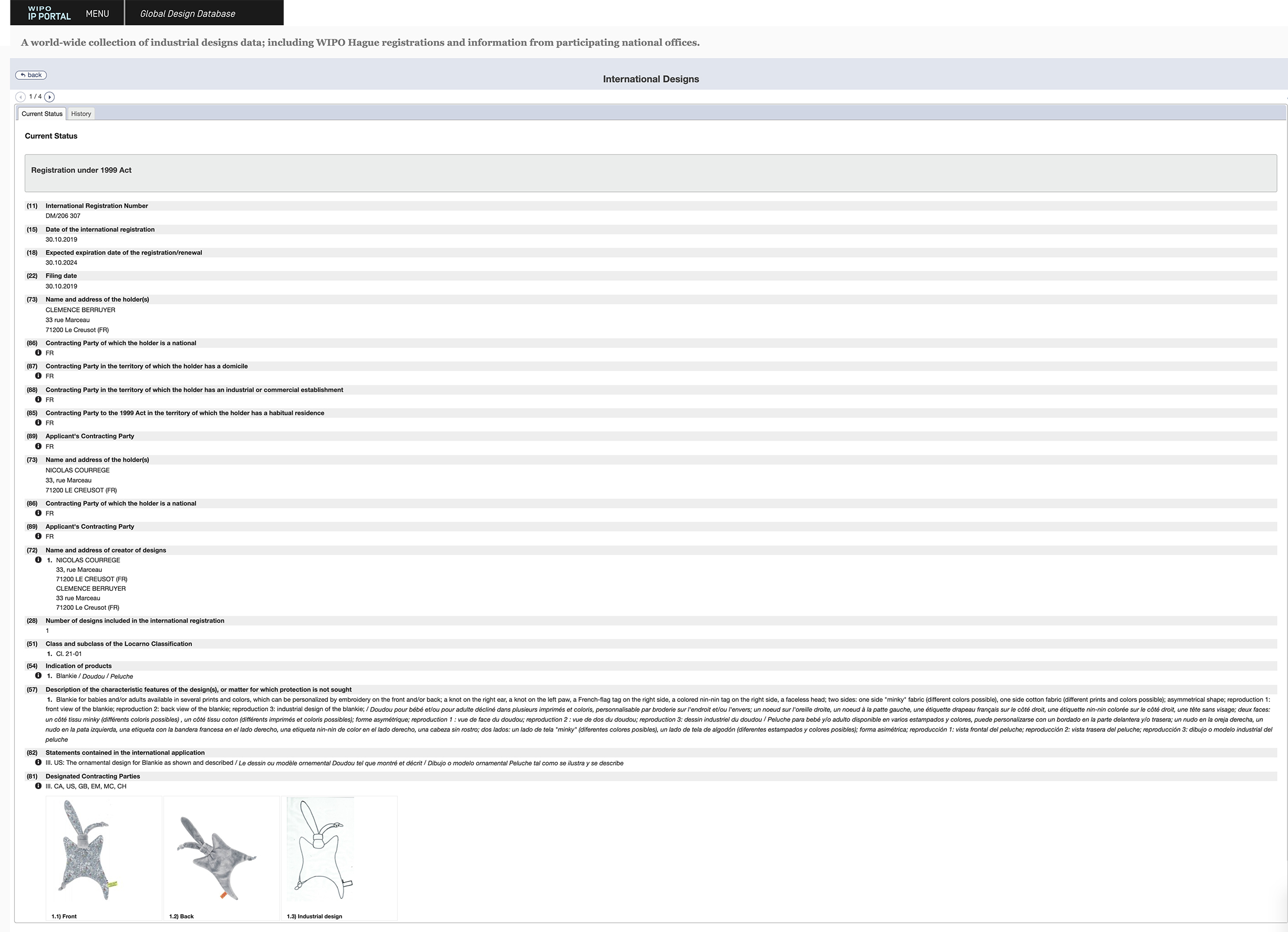 Nin-Nin®, a registered model
International registration number DM/206 307
Indication of products 1. Soft toy / Blankie / Plush Description of the characteristic elements of the design (s) or elements for which protection is not sought 1. Soft toy for babies and / or adults available in several prints and colors, customizable by embroidery on the right side and / or back; a knot on the right ear, a knot on the left paw, a French flag tag on the right side, a colored nin-nin tag on the right side, a faceless head; two sides: one side minky fabric (different colors possible), one side cotton fabric (different prints and colors possible); asymmetric shape; reproduction 1: front view of the blanket; reproduction 2: back view of the blanket; reproduction 3: industrial drawing of the blanket
Formal ban on using the Nin-Nin® brand name and formal ban on reproducing the Nin-Nin® comforter for personal or professional purposes.
This is what the law says:
In addition to the civil compensation due to the trademark holder and possible seizure of the products, counterfeiting also leads to criminal penalties. The law thus punishes with a maximum penalty of 3 years imprisonment and a fine of € 300,000 for any person making counterfeit goods..